Born in Liverpool, I'm a writer/actor, with roots in dance, fringe theatre and comedy.
Via a Laban movement and dance training and radical theatre immersion at Oval House initiated by visionary artistic founder Peter Oliver, I worked as an actor with experimental theatre companies in the 70s and 80s, later creating myriad, comic characters for TV, stage, radio and film.
I founded theatre company Ship of Fools to develop and tour my own cabaret productions including the multi-dance extravaganza: Sympathetic Magic.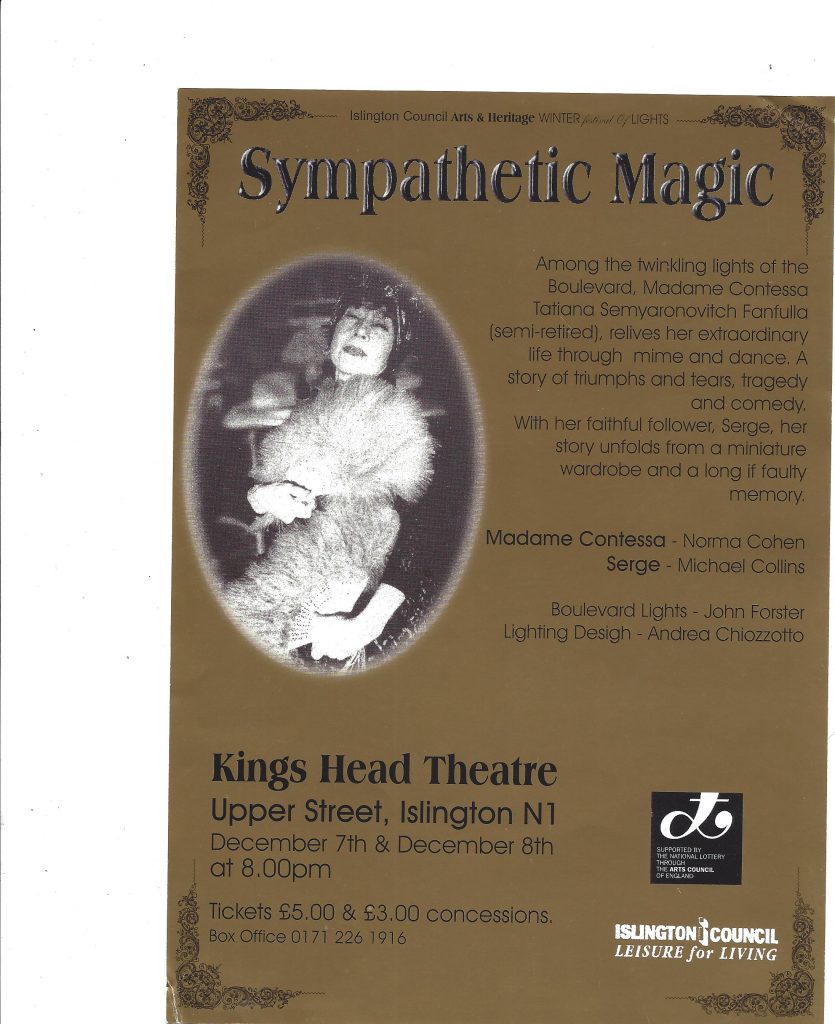 In fact, fiction and drama I have written about my post-war, radical Russian/Jewish/Liverpudlian heritage. Other published work for print and radio includes non-fiction books, short stories, poetry and sketches. As a freelance arts education journalist, I was Dance Editor of TES and Health Editor for City Limits.
I'm currently working on a memoir on my life in dance: The Stretch, developing my play Key to Return set in Palestine with director Steve Tiller to be workshopped in February, 2022 and invited to appear via zoom & youtube as Liverpudlian fair isle knitter Greta in Yarning, directed by Jake Oldershaw with Trevor Pitt's Pod Projects for a virtual December tour of care homes. (see ACTOR)
My dance, theatre, comedy and journalism background influenced me when I was setting up Vital Sparks workshops. These have been helping people from all walks of life develop their confidence and interview skills. They have been highly successful in helping people find meaningful work and make creative changes in their lives: www.vitalsparks.co.uk.
As compère, I've worked with writers, actors and poets to deliver their work to audiences at bookshops, festivals, jazz nights and cabarets. I currently work as a writer, actor and Vital Sparks coach.
Interviews: https://tinoorsini.podbean.com/ (2018) http://www.unfinishedhistories.com/interviews/interviewees-a-e/norma-cohen/.
Member of Equity, NUJ and English PEN
ERIC SANDERS AT 100
My interview with Viennese Jewish emigré Eric Sanders: composer, pianist, teacher, soldier, crime novelist and antifascist, filmed by Roger Schindler was due to play the Rio Cinema, Dalston in Dec. 2020 before lockdown intervened. Eric sadly died this August, before his 102nd birthday but new screenings of ERIC SANDERS AT 100 are planned to celebrate the life of this remarkably prolific centenarian.
From Music To Morse – Eric Sanders at 100 ← Events ← Austrian Cultural Forum London (acflondon.org)
Photo left: Leszek Halasa
with thanks to Frog Morris @ Purple Network