VITAL SPARKS WORKSHOPS
fantastic, inspiring teacher…these workshops are wonderfully uplifting….it has meant a lot to me to feel like an adult again, not just a mother… Norma gives me a lot of encouragement, help and confidence, making me come out of my shell that I have hidden behind for so long… great energy and inspiration.
Drawing from my theatre, dance, comedy, teaching and journalism background, I developed Vital Sparks communication skills workshops whilst working as Senior Tutor for Media Prospects/ Employment Projects, LB Kensington & Chelsea 2000-2012

Masterclasses:
Presentation, Interview Skills, Confidence & Motivation: workshops for media professionals, women returners, care work applicants, those who were unemployed or made redundant, keen to recharge.
Looking out, Looking in, Reactivating the dream; realising the dream: creativity workshops using theatre, dance, film, comedy, relaxation & life skills leading to performance
2017 onwards:  Ongoing Confidence And Motivation/ Interview Skills workshops:
Somers Town Job Hub, Camden:  flyer: JOBHUB
Working with people including high achieving parents and those made redundant wanting to enter/ re-enter the job market and find meaningful work.
Due to successful King's Cross regeneration funding bids, these popular workshops have continued to run regularly.
"Norma delivers our Confidence & Motivation workshops approximately once every six weeks.  The participants have generally been unemployed for a long period of time and have a range of complex barriers.
After attending the three hour workshop with Norma, the positive impact of the session is clear to see.  Heads are up, shoulders are back and smiles have returned to faces.  Norma's person-centred approach to what she does means that she can work with a group and make each individual feel really special.  She has a rare energy, and we feel very lucky to work with her!' (
Julia Marcus, former Somers Town Job Hub Manage
r,
2019
: 07949 144230; jobhub@somerstown.org.uk.)
"' Fantastic workshop with many ideas for interviews!" "It's really helpful to gain knowledge and an open mind – and also dream the future job I'd love to do." "I have taken so much in, in terms of confidence and relaxation techniques." "I was surprised I could fit through the door at the end, my head felt so big!" "The workshop was brilliant. Norma is very friendly and approachable." "Relaxed and energising workshop where everyone felt confident to participate."
LOOKING IN, LOOKING OUT POSITIVE ENERGY WORKSHOPS ran from 2020 via ZOOM – now face to face from 2022. Workshops include: Confidence & Motivation; How to Create a Dynamic CV or enhance the one you've got; Creative Writing; Interview Skills.UPDATE:
One-to-one coaching:
working with individual clients to build confidence in the workplace
helping writers, actors & poets present their work to audiences with flair.
NOVEL LONDON
I coached novelists reading their work to audiences at diverse London bookshops for Novel London: a platform to celebrate the novel and promote emerging and established novelists. (www.novellondon.co.uk). August, 2019: At Novel London's 1st literary festival: FOYLES Bookshop, Charing Cross Rd, I worked with eight gifted writers and compered the prize-giving ceremony:
Working with Norma brought a new dimension that I didn't think I had in me! She encouraged me to fully engage with my reading, to invest in every nuance and breath, and I felt that my reading and performance as a result improved exponentially. Even as a well versed poet, presenter, performer, I thought I had little to learn, but Norma brought a new joy and space to my performance. Highly recommended. (Tara Arkle: writer)
Norma's coaching gave me the confidence I needed to get up on stage and deliver my first-ever reading. In a short space of time, I picked up invaluable tips and tricks from her – from how to use the room to engaging with members of the audience and pausing without losing my thread. (Sarah Kovandzich)
"Covering delivery, voice control, inflection, projection, conveying meaning and connecting with an audience, Norma's training during rehearsals has been invaluable in preparing novelists for their readings. Her sessions have changed the way that readers perform their work and there is a noticeable difference in their delivery after just one session." (Safeena Chaudhry: founder/director, Novel London)
"Arriving at Waterstones, Covent Garden, I was greeted by actor, author and professional voice coach, Norma Cohen. Fortunately for the participants, helping people make the most of their voices and their words is where Norma excels. She encouraged us to engage with every member of the audience." (Jane Davis: author)
Safeena Chaudhry reading from her novel: Companions of Clay
more information: www.vitalsparks.co.uk

I very much appreciated your coaching on the day of the Novel London festival. I found your enthusiasm catching, your encouragement invigorating and your advice both targeted and useful. I enjoy reading in public but you really helped me slow down, enjoy my delivery and find places in the audience to deliver it to. (Adam Stevenson: writer)
Other clients
London College of Communications (University of the Arts): BA Media & Cultural Studies; Sound Arts & Design; Film & Video; FDA Media Practice students/PPD Lambeth College BTEC Media students Headway Programme/LSC funding Hackney Summer University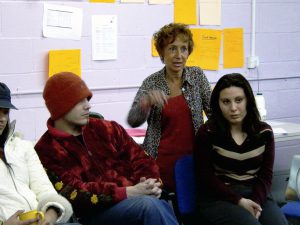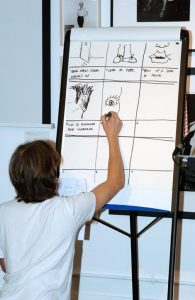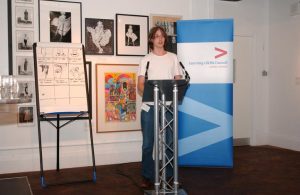 Learning Skills Council/Creative Industries: Dali Museum (animated lecture) Utopia Theatre Company/CIP, Hounslow (co-directed Speak Out! public speaking workshops for older people's organisations) ICA Club/Cockpit Theatre (Movement for Actors workshop)