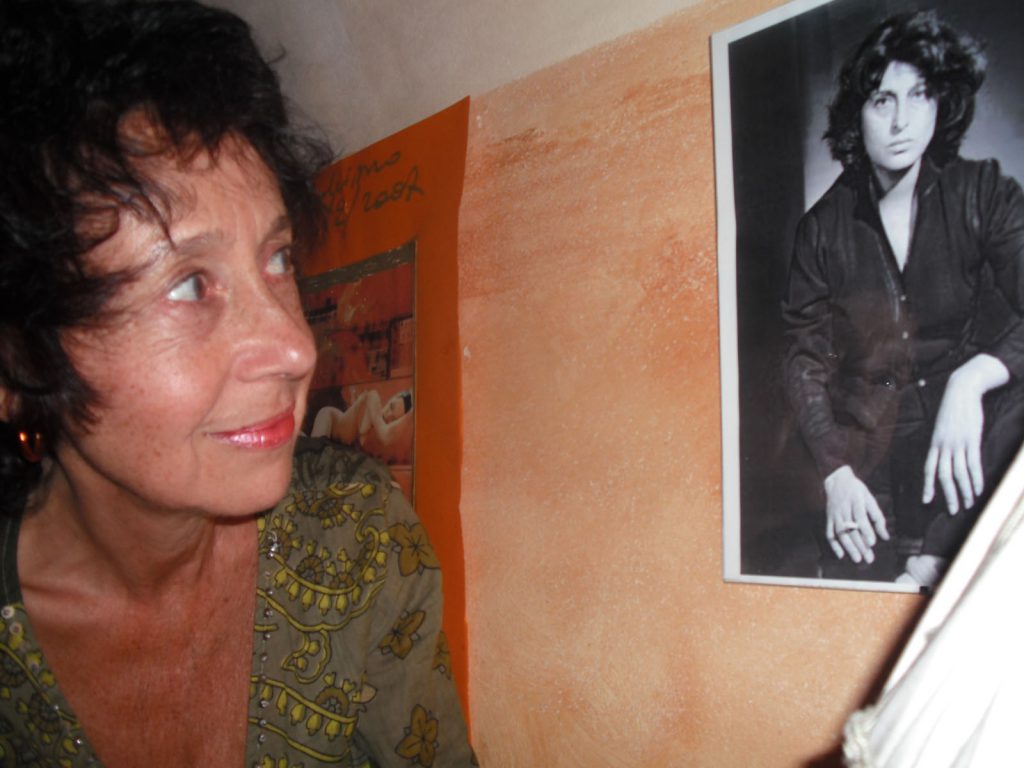 Agent: 1 Artists' Agency; edwin.lowe@1artistsagency.com; www.1artistsagency.com
https://www.mandy.com/actor/profile/norma-cohen
Spotlight/Equity member:
link to my Spotlight CV: https://www.spotlight.com/6575-7863-9534
Upcoming:
Diane, a victim of financial/material abuse for Ann Craft Trust: Safeguarding Adults in Sport (film)
Recent work includes:
Premiere screening of SALLY in which I play Sally, a lonely grandmother who takes up escorting on the side (LSBU)
Marcela Menchaca in AUTOPSY: The Last Days of Dana Plato directed by Steve Baker for ITV
Hitler's food taster Margot Wolk in Hitler's Food Taster (film) directed by Magnus Irvin
Dancing bumblebee: Walthamstow Art Trail 2019 (cabaret)
Dotty in Barry John's Dotty & Ben's Great European Adventure directed by Mark Craig for Sunday Surgery
Giulietta Masina in my play GIULIETTA'S FEAST with Ben Bazell (Rocky Horror Show, English Shakespeare Company, Pip Simmons, Off the Page) as Fellini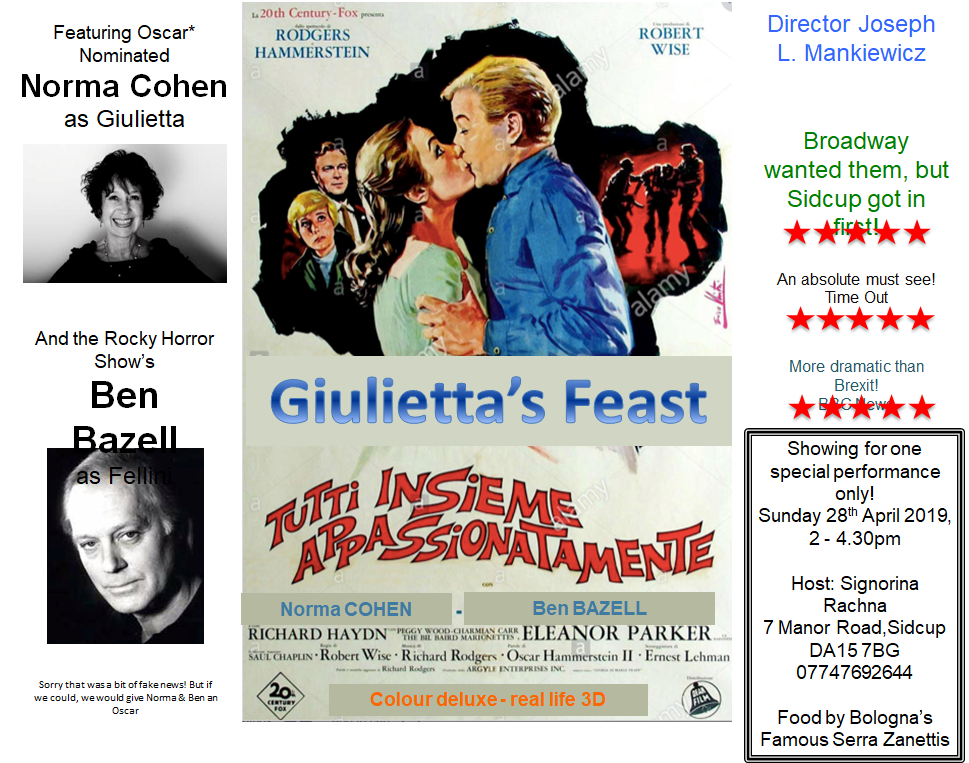 R
April 2019:
Lonely grandmother Sally who takes up work as an inner city escort in Emily McKenzie's short film SALLY, brilliantly illuminating the compromises and conflicts experienced by three generations living together in cramped quarters.
March 2019:
Joanna, defiant wife of Rabbi Paul of Burgos: Paul of Burgos (JW3)
December 2018: The Rasputin Show (Southwark Playhouse)
Yarning, director Trevor Pitt: Birmingham MAC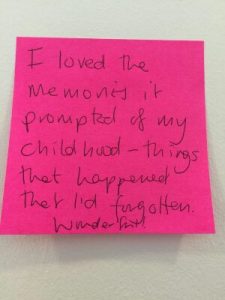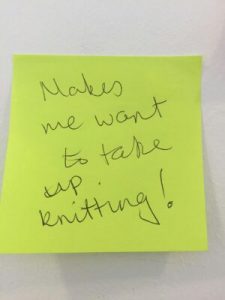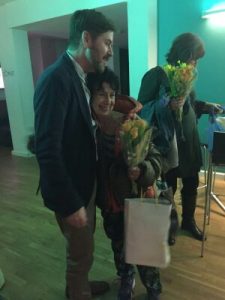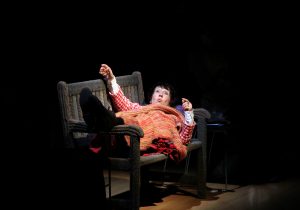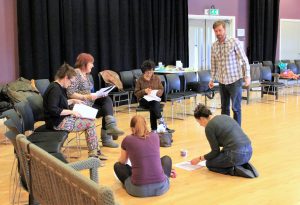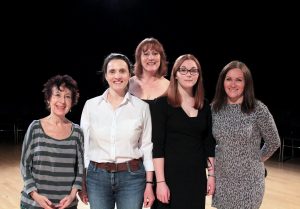 Who do we think we are? by Sonja Linden, director: Sue Lefton (Southwark Playhouse & Northern Stage)
The Wardrobe Project by Sonja Linden (GRAEAE), both for Visible Theatre Ensemble (www.visible.org.uk)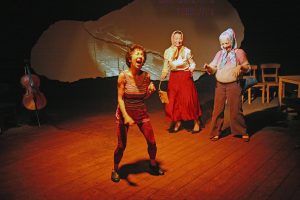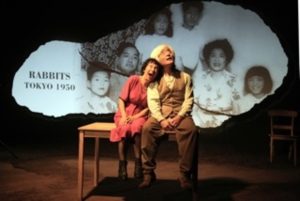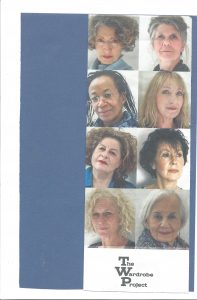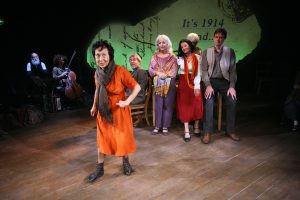 photos: Who Do We Think We Are? & Wardrobe Project: Nadia Otshudi
Gail Louw's comedy hit Two Sisters: SE tour & Upstairs at the Gatehouse
Lydia in Waiting for the Q (Tristan Bates)
Giacometti's 86 year old mother in John Gillett's Man Walking (White Bear)
Hazel in Catherine Willmore's DUSK (Epping Forest)
87 year old Countess in Pushkin's The Queen of Spades (director: Max Hoehn, Arcola)
Body double for the 86-year-old proprietor of the New York Bagel Bakery (TV)
TOY music video by Young Fathers
2018: ads for House Simple (director: Brad Lubin), Legal & General, Walkers Crisps, IKEA
December 2018: The Rasputin Show (Southwark Playhouse)
Reader:
Mina's Waltz,Global Society: BAFTA/Out of Place (director: Nicola Burnett Smith)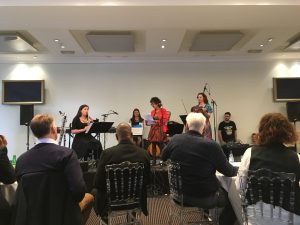 Voice of 98-year-old Eric Sanders: celebration of his life and book launch for his autobiography:
Secret Operations & crime novels: Mazes 1: Murder in Munich & Mazes 2: Conspiracy in Vienna:
Austrian Cultural Forum (director: Nicola Burnett Smith)
Review:
Two Sisters: https://twitter.com/BreakALegReview/status/844688213130297346Chemistry between Kavanagh/Cohen is edgy/real. There's a raw quality to how they play out their relationship – works superbly. (Helen McWilliams: breakaleg.biz) Norma Cohen's exuberant Liverpudlian background with her own `revolution' in London's `swinging' Sixties. (Carole Woddis: reviewsgate.com)
Podcast interview:
Jewish Views:
Joe Stilgoe at Pizza on the Park: photo: Emma Tarrant
Compère:
THE REST WILL FOLLOW spoken word salon
(upcoming: MORE TO FOLLOW: January 20th, 2019)
NOVEL LONDON (Big Green Bookshop, Travelling Light Bookshop, Waterstones Covent Garden, Piccadilly & King's Cross
Jazz events (Pizza Express/ Pizza on the Park & the Rosemary Branch)
Norma Cohen's Unfinished Histories interview is now deposited with the British Library Sound Archive, the V&A Theatre Collections and Sheffield University: http://www.unfinishedhistories.com/interviews/interviewees-a-e/norma-cohen/.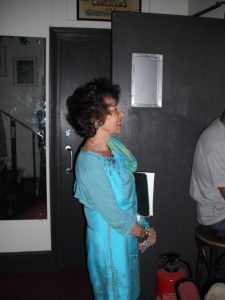 photo top left: Leszek Halasa