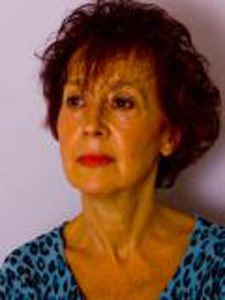 photo: Paul Robinson
Responding to a restless, internal dialogue, my writing comes from a unifying desire to connect with people as I do as a performer and teacher, seizing the moment and transforming it.
`Impassioned, clear prose.' 

(Carol Bergman, writer: NY, 2018)
Contact:  
normacohen52@gmail.com;
07931 173981 agent: John Parker:
thejohnparkerconsultancy@gmail.com
NORMA COHEN: WRITING CV
Profile:
Norma Cohen is a London based writer/performer whose writing ranges from novels and short stories to plays for stage and radio and arts journalism. Much of her work reflects, with a light touch and a deal of sardonic humour, her experience of growing up in Liverpool in a Jewish Communist household during the Cold War era. Trained as a dancer, Norma moved into theatre, and later into journalism and fiction writing. She currently maintains both strands of her professional life, writing and performing, and has just completed her second novel:
Waiting for Farid.
Fiction:
Ganzer Macher:
dramatised reading of novel extracts:  Novel London/Big Green Bookshop
Waiting for Farid:
  reading of novel extract: Novel London/Travelling Through Bookshop
The Fish and Chip Boat: Celebrating Liverpool and Culture
: Orbis magazine
Childhood short story
:  Jewish Year Book 2008/09
At the Adelphi:
novel extract from
1956: Saying Goodbye:
 Jewish Renaissance
A Violent Tale/Mordechai's First Brush with Love:
short story, Loki Books
Novel extracts
: Jewish Book Week readings: Hackney Libraries, Stoke Newington Bookshop
Non-Fiction:
Karl Marx was a Scouser: a Liverpudlian childhood: lead feature, Jewish Quarterly
Alan Kane: Britain's Ambassador of Song: lead feature, Jewish Renaissance & The Cable
Theatre works: A Guide to Working in the Theatre pub.National Theatre/ Theatre Museum
Radiant Illusion? Middle-class recruits to communism in the 1930s. Eve Editions.
Out of Focus: Images of Women in the Media. Women's Press
Death of a Mother; daughters' stories: John Lennon is dead; in memoriam. Pandora Press
Bouquet with Flying Lovers, Celebrating a Life.  Gally Cat Press/ MS Society
The Fish and Chip Boat: Celebrating Liverpool and Culture. Orbis magazine
Lithuania: Place of Rain: lead feature, Jewish Renaissance
The Dybbuk of Delight: Jewish Women's Poetry. Poems. Five Leaves Press.
Theatre plays:
Key to Return set in Palestine (P21 Gallery, 2022)
Gone for a Burton Rehearsed Reading, JW3
No Reasonable Offer Refused Rehearsed Reading, Park Theatre 2013
Does it come with Ketchup? Rosemary  Branch 2009
Giulietta's Feast: relationship between Federico Fellini and his wife/muse Giulietta Masina:                                Rehearsed Readings, Rosemary Branch & Stratford East 2009
Toot, Toot: TV comedy drama Rehearsed Reading  Ship of Fools  2008
The Unbroken Line: Rehearsed Readings Theatre Royal, Stratford East & Rosemary Branch Theatre 2008
My Federico/Giulietta's Feast Rehearsed Reading with Jane Lapotaire, Rosemary Branch                                            (Arts Council Commission Award) 2000
Radio:
The Last Supper (short story) BBC Radio 4, director  Alfred Bradley
That's Up to You, Comrade (play) Rehearsed Reading Jewish Book Week/Hackney Libraries
The Deeper Well (play, set in the former GDR) extract, LBC Drama Festival
Let's Move:  two series of play scripts for BBC Schools Radio
Pen to Paper: sketches, BBC Radio 4
Film:
Picnic in Gaza (screenplay: PVK Pictures)
Journalism:
recent:
English PEN 2019: memorial: Raficq Abdullah
Part of a current: one of the family: House of Commons, December, 2017
Cape Times, South Africa: Insight: David Lurie obituary
New Camden Journal: Party Animals by David Aaronovitch: book review/feature
The Guardian, Other Lives: obituary: David Lurie
Smithdown Litfest 2017, Liverpool: review: publisher Ian Skillicorn's website
Heldenplatz: Jewish Socialist
previous:
Freelance arts journalism for Yorkshire Post, The Lecturer, The Guardian, Dance & Dancer,                                     Radio Times, Jewish Quarterly, Jewish Renaissance
Dance Editor: TES
Health Editor: City Limits
Awards/Prizes:
Society of Women Writers & Journalists Charitable Foundation: bursary for novel writing
Arts Council, England: grant for mentoring from writer Jacob Ross on novel in progress: Leaving Lime Street, set in Liverpool, 1956
Arts Council Literature Award: further writing grant to finish the novel
British Embassy Lithuania funding:  to research family roots in Lithuania and meet with Jewish writers in Vilnius and Kaunas
WIZO Short Story Prize for  Goodbye to Childish Things
Arts Council Commission Award to write stage play: My Federico
Waiting for Farid, novel extract, finalist EASTSIDE/TEXACO Competition