Scrabbling through a crate of photos in my attic, I come across an old theatre programme from the sixties. Plump angels fly across a faded pink cover proclaiming a double bill of melodrama and musical hall: Unity Theatre, radical open university for working class writers and actors presenting its uncontentious Christmas show, circa 1962. Turning the page, I see my own name, barely legible alongside `Opening Chorus'.
Emerging from a dreary street in Liverpool 13, it was mesmerising to end up down a dark alley round the back of Mornington Crescent, my second introduction to the pull of spectacle: the smell of pan-stick, fishnet tights and footlights that shone in your eyes to block out a looming audience `fed up with a diet of marzipan' (New Statesman).
As the smallest girl in Liverpool two years running aged eleven, I'd already racked up the role of pageboy for a Sadler's Wells Royal Ballet touring production of Swan Lake, briefly decanted onto the Liverpool Empire, Lime Street's grander stage.
`Train, train!' hissed the Queen as I loitered behind her in the wings. Swiftly, I knelt to rearrange her glittering cloak encrusted with paste jewels. With an irritable flick of an arm, she swept onstage. I'd missed my big moment, all due to an absentmindedness I still struggle to keep in check.
But now at Unity, first theatre in Britain to stage Bertolt Brecht and premiere Sean O'Casey's The Star Turns Red, I was treading in the footsteps of Michaels Gambon and Redgrave, David Kossoff, Paul Robeson and even Lionel Bart. Rumours of his new production seeped into the dressing room with an ominously seductive offer to join a new musical he'd just finished: Blitz or was it Twang? This was a half-century before the #Me Too movement had shown its clout but still the price seemed too high to pay. I demurred. Later, I heard it was a huge flop and had cost Lionel his newly minted fortune.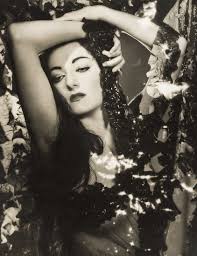 Glancing down the programme, I read: Evening in Paris performed by Mademoiselle Marika Rivera. I remember Marika: shiny red smile, determinedly flamboyant, a Fellini-esque character constricted by the narrow walls and rickety stage of 10 Goldington Street, NW1. Dance trained at three by Isadora Duncan, here trapped inside an Edwardian theatrical tradition far removed from her Parisien cabaret years, she demanded attention, perhaps to compensate for a lifetime's rejection by the father she'd clamoured to meet: muralist Diego Rivera, twice husband of Frida, brilliant advocate for the Mexican Revolution, whose languorous Señora Natasha Goldman stares me out from my bookshelf, framed by a sheaf of drooping calla lilies.
A few hours later, in a sixties memory game spanning Billy Liar, A Room at the Top and A Taste of Honey, I'm drawn to the 1965 black and white film Darling. Checking out the cast list, my eyes flick down to: Marika Rivera: Paris party woman. So Marika must have burst free from Unity Theatre's cramped dressing room to dash post-haste into the arms of Laurence Harvey and John Schlesinger.
I've been dredging up my own modern dance training for my new piece, The Stretch. That three-year confinement was less theatrical than Marika's, less transatlantic but still revered Isadora as the forerunner, her statuesque, heavy limbed lope reflected in Picasso's Two Women Running on the Beach. But who is the other woman: Marika, born into the paternal embrace of Picasso, Matisse and Braque, Martha Graham or even me?

Attics yield strange fruit. The last time I had a blitz, I turned up notes from an animated lecture I'd constructed for a festival: Unity: Radical Theatre, East End Jewish Actors and Activism – and a sheaf of letters stamped with eye-catching pictures of hammer and sickles, sputniks, Lenin and the Red Square: another relic from the sixties a few years on. That discovery triggered my new novel set in Algeria: Waiting for Farid.