JUST THE TICKET: VOICES IN THE DARK
I'd been clearing out my attic, trying to decide how to dispose of five years' worth of old receipts. Make a bonfire, cautioned a friend. You don't want anyone jumping onto your credit card details. So last Sunday, just before the rain hit, we emptied the contents of a hundred plastic bags into the carcass of a rusty, tiled stove upgraded to garden furniture and lit a match.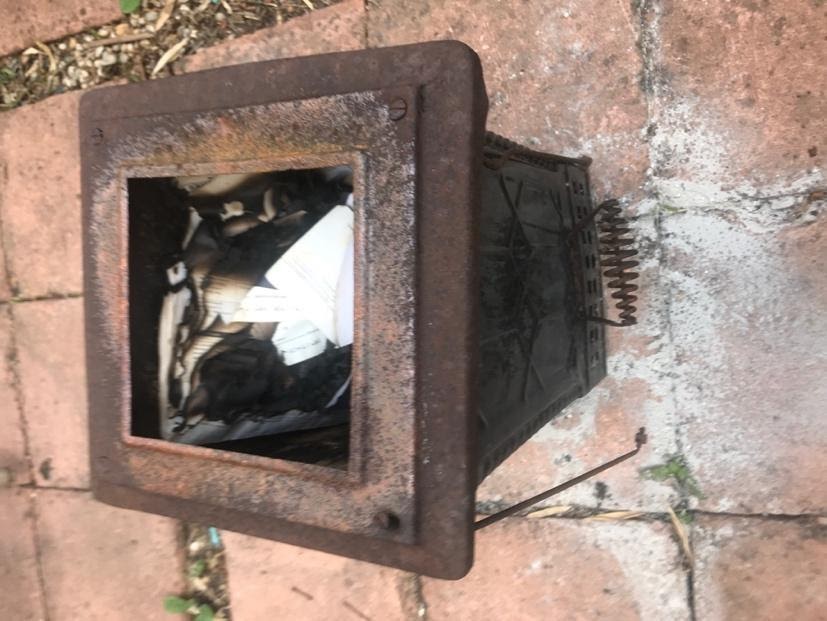 Screwing up my eyes to avoid the smoke billowing around our heads, I ran into the wind to retrieve the tattered confetti already swirling into the trees. As if drawn by a magnet, I seized on one charred relic: a theatre ticket for Stratford East: `The People's Theatre': the place where I'd seen Joan Littlewood's `Oh, What a Lovely War', Close the Coalhouse Door and Mrs Wilson's Diary on the stage I'd performed a bumblebee ballet dance years later at a Sunday night cabaret, where I'd breathed the same, electrified air as Five Guys Named Moe who'd had the audience leaping out of their seats and into their arms, the place where I'd met with a circle of actors to read plays in progress including my own, where I'd taken my grandson to his first panto, the place where I'd met Joan Littlewood herself leaning conversationally against the bar as we struggled to entertain a straggling audience on the chilly tarmac outside.

The heavens opened soon after – but miraculously the oven kept on burning. It only took one small kick to make the flames circle and dance. Theatre will never die but needs urgent injections of cash from top to bottom to keep it afloat and thriving, to give people a chance to create and fail and create again.
Looking at this delicate, filigreed ticket, holes scorched through it like Emmental cheese, I'm wondering if it doesn't represent the current fate of theatre in this country. Theatre: a living art reflecting the best of our lives and the worst of our lives; ruminating on the past, dealing with the present, pointing to the future; taking us out of ourselves and bringing us back to ourselves: a fragile if hardy animal, vegetable and mineral reliant on a support system to keep the great machinery of contributors and projects, those ancient buildings afloat – from the network of regional theatres threatened with closure including Leicester Haymarket where I'd cut my teeth at the Flying Phoenix TIE company: my first Equity job nearly fifty years ago, to companies forced to close shows before they'd even opened, to independent companies nationwide struggling to connect with communities in a life affirming way, along with the myriads of impromptu performances performed in pubs, clubs, arts centres and other people's living rooms.
From a separate plastic bag, I've been filching out a few other theatre tickets that have – so far – escaped their imminent fate: Krapp's Last Tape (Jermyn Street), Letter to a Friend in Gaza (Coronet), We Are Arrested and They Shall Not Pass: The Battle of Cable Street (Arcola), Death of a Salesman (Piccadilly), Europe (Donmar), Party Time (Harold Pinter), A Very Expensive Poison (Old Vic), Stray Dogs (Park), Elton John – It's a Little Bit Funny (Gatehouse Upstairs), Leopoldstadt (Wyndham's), Rosmersholm (Duke of York's), Voices in the Dark (Sam Wanamaker Playhouse) and The End of History (Jerwood) – don't these titles have an apocalyptic ring?
Yes, new forms, new ways of working are called for but the arts and the luminous jewel in its crown known as live theatre need to be elevated to their rightful place in our society. The arts feed us, make us bright. Ideas and images course through our bones, sharpen our minds and wake up our souls. They stimulate our imagination and our political acuity. Alongside good health, decent housing and meaningful work, they help make us feel realised, part of a shared humanity promoted by 1960s arts champion Jennie Lee.
Underlining intensive campaigning from Equity and all voices from within the theatre industry for emergency strategies embracing funding, investment and tax breaks, we need acknowledgement that theatre provides more than a substantial boost to the economy. Creating, realising, portraying or viewing, it's a vital ingredient that opens up diverse micro and macrocosms of the universe to enrich our lives. What does it take? Galvanising direct action die-ins in the spirit of the 1960s? Other countries have moved swiftly. Think of subsidised Berlin theatres now rearranging their programmes (and seating) via a hefty arts bailout or New Zealand with its Creative Arts Recovery Fund, challenging this country's pathetic GDP percentage spent on the arts. The government had no problem bailing out the banks. I'm holding this scorched theatre ticket in my hand and remembering Joan Littlewood, flag bearer for the soul of popular theatre. What would she be saying now? (Norma Cohen)